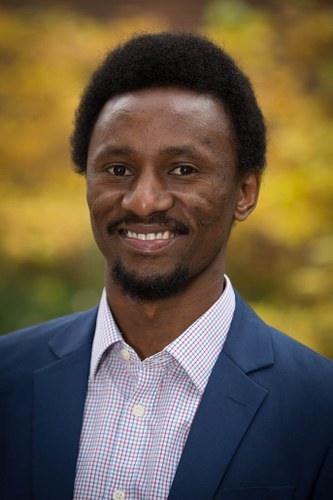 Hassani
Hussein
Karemera
M.S. Student
Advised by: Dr. Gretchen Kuldau
301 Buckhout Lab
University Park
,
PA
16802
Areas of Expertise
Phylogenetics of Pinus ponderosa using plastid SSR and Mitochondrial DNA
Education
B.A., Biochemistry Molecular Biology, Hendrix College
Areas of Study
Mycotoxicology
Maize production
Indigenous agricultural knowledge of African farmers
Gender roles in African rural agriculture
Fusarium taxonomy in Africa
Fusarium verticillioides
Roles and production of fumonisin
Host-pathogen interaction
International agriculture and development
Research Interests
Toxigenic fungi and mycotoxins are largely responsible for reduced crop quality and food contamination that have affects human and animal health. Fusarium vertillioides is a soil-borne fungus of cereals that produces fumonisin. All around the world F. vertillioides is associated with Fusarium ear rot of corn. Due to the limited understanding of the fungus around the world, less developed countries are prone to the next mycotoxicosis outbreak. Given the host range and favorable climatic conditions in most parts of the world the fungal infestation may pose great danger to human and animal life leading to devastating food contamination and insecurity.
My research combines international agriculture and development to investigate F. vertillioides
populations in Africa-Rwanda and the underlying biochemistry and genetics of fumonisin production and crop fungal contamination. We also look to investigate the indigenous agricultural knowledge used to combat fungal infestations and how they relate to the gender roles and contributions to ensuring food security in developing country.
Publications
Willyard A, Gernandt DS, Potter K, Hipkins V, Marquardt P, Mahalovich MF, Langer SK, Telewski FW, Cooper B, Douglas C, Finch K, Karemera HH, Lefler J, Lea P, Wofford A. 2017. Pinus ponderosa: a checkered past obscured four species. American Journal of Botany 104:161-181.