Preparation for Incursion
The Incursion of New Wheat Stem Rust Races into the United States: Preparation through research, Education, and Extension
Photo: Uredinia of Puccinia graminis f. sp. tritici. (Courtesy B. Steffenson)
New races of the wheat stem rust pathogen (Ug99) may enter the U.S. at anytime. Ug99 was first detected in Africa and has recently spread to Iran. The pathogen can be blown long distances and the likelihood of inadvertent human-mediated spread is considerable. The U.S. grows 60 million acres of wheat valued at $13 billion and potential loss to Ug99 could exceed $10 billion.
Most U.S. wheat and barley cultivars are susceptible to Ug99. Wide deployment of resistant cultivars will likely require 7-10 years and until then the first line of defense will be applications of fungicides. In this project funded by the USDA CSREES Biosecurity Program, we are developing research, extension, and education components of an IPM program to provide growers with efficient in-season stem rust management to protect their crop yields and profits between the time Ug99 enters the U.S. and deployment of cultivars with durable long-term resistance to this pathogen.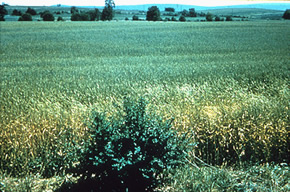 Scott Isard is leading a team that includes Drs. Erick DeWolf (Extension Wheat Pathologist, Kansas State University), Les Szabo (Researchers, ARS Cereal Disease Laboratory), and Joe Russo (Agricultural Meteorologist and President of ZedX Inc. a private firm that specializes in providing weather modeling services and information technologies to agricultural stakeholders). Dr. Szabo's lab is currently working diligently to develop PCR tools.
Drs. Isard, Russo and Szabo are building a system to integrate observations from disease monitoring and spore collection networks with aerobiology modeling to provide U.S. growers with early warning of indigenous wheat rusts over the next few years, so that when Ug99 arrives we will be able to forecast its spread more accurately.
Dr. Erick DeWolf is spearheading the efforts of Extension Specialists and other stakeholders from wheat and barley producing states to enhance existing wheat rust monitoring programs, develop appropriate wheat stem rust educational materials, and to create a protocol for communicating information critical for management decision making. Dr. Isard is also developing a university aerobiology course at Penn State to teach state-of-the-art methods for responding to threats from invasive organisms to the next generation of scientists.