Ramos-Sepúlveda and Bull Collaborate with Lincoln University
Posted: April 6, 2017
Drs. Carolee Bull and Laura Ramos-Sepúlveda began mushroom research collaboration with Lincoln University on April 6.
Laura Ramos-Sepúlveda (L) | Image: Carolee Bull, Penn State
Drs. Laura Ramos-Sepúlveda and Carolee Bull took their research to Lincoln University on Thursday, April 6, 2017, to complete the objectives of a Giorgio Fresh Co.-funded research project and introduce biology students to agricultural research and mushroom production.
The goal of the research project is to determine the diversity of Pseudomonas causing bacterial blotch in Pennsylvania mushroom houses. Drs. Bull and Ramos-Sepúlveda joined Lincoln University Distinguished Professor John Chikwem and Peter Gray of Phillips Mushroom Farms to collect from Kennett Square, PA, mushroom houses samples that show mushroom blotch symptoms. To date, pathogens from six species consisting of twelve different genotypes have been identified.
After sampling, Dr. Ramos-Sepúlveda shared the art and science of mushroom production with Dr. Chikwem's biology students. Following a demonstration of how to isolate bacteria causing blotch from the mushrooms, the students isolated bacteria from diseased samples.

Laura Ramos-Sepúlveda (L) | Image: Carolee Bull, Penn State
The team plans to design a microbiology class curriculum that successfully incorporates Dr. Chikwem's learning objectives with the Penn State researchers' goals. Ideally, involvement with this authentic research experience will lead students from Lincoln University to careers in agricultural research and potentially to expertise in mushroom production.
Laura Ramos-Sepúlveda (standing left) | Image: Carolee Bull, Penn State
Lincoln University is in the heart of Pennsylvania mushroom country near Oxford, Pennsylvania. According to its website, "Lincoln University was founded in 1854 as the nation's first degree-granting Historically Black College and University."
Contact Information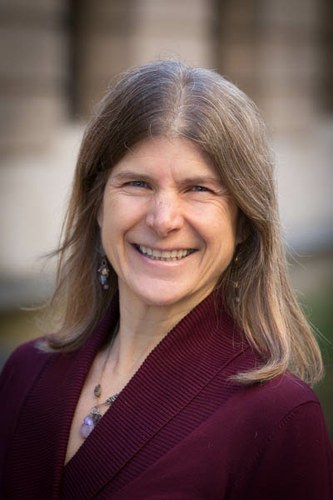 Department Head, Plant Pathology and Environmental Microbiology