Fruit and Vegetable Convention Offers Workshop for Spanish Growers
Posted: February 2, 2017
Carolee Bull and Laura Ramos-Sepúlveda were among collaborators for Spanish-growers session at the Mid-Atlantic Fruit and Vegetable Convention on Feb. 1.
Laura Ramos-Sepúlveda presenting | Image: Carolee Bull, Penn State University
The Mid-Atlantic Fruit and Vegetable Convention, an important annual meeting for growers in the northeast part of the United States, provides growers with educational sessions, exchange displays, and network opportunities. This year the meeting was held Jan. 31-Feb. 2 at the Hershey Lodge and Convention Center and included a special session on Feb. 1 for Spanish growers.
The Spanish-growers session, Técnicas de Producción de Frutas y Hortalizas (Techniques for Fruit and Vegetable Production), was made possible by a Specialty Crop Block Grant obtained through the collaboration of Lee Stivers and Drs. Tara A. Baugher and Carolee Bull.
Postdoctoral scholar Dr. Laura Ramos-Sepúlveda, in collaboration with Dr. Johanna Del Castillo Munera from the University of Maryland, gave a presentation titled Identificación, Diagnóstico y Manejo de Enfermedades en Plantas (Identification, Diagnostics, and Management of Plant Diseases). The presentation focused on the diseases Late Blight, Early Blight, Powdery Mildew, and Downy Mildew in vegetables and Fire Blight, Apple Scab, Brown Rot, and Botrytis in fruits. Growers then identified some of these diseases through a hands-on activity.
Ramos-Sepúlveda's passion for plant pathology, her bilingual skills, and her desire to engage east coast, Spanish-speaking growers and field laborers were key to the success of the workshop. Dr. Melanie Miller-Foster specifically collaborated with the team to assess the knowledge of the group about Penn State resources.
The session also included the topics:
Rindiendo cuentas para su bienestar (Being accountable to your well-being--financial literacy) with Miguel Saviroff, Penn State Extension;
Insectos benéficos que aumentan rendimientos--amigos de la horticultura (Beneficial insects that increase yields--friends of horticulture) with Beth Sastre, VCE-Loudon Extension, and Dr. Margarita López-Uribe, Penn State Extension;
Sueños de mis hijos--Cómo puede ayudar Penn State (Dreams for my children--possible Penn State role) with Dr. Melanie Miller Foster, Penn State Extension;
Lavado correcto de frutas y hortalizas después de la cosecha (Safely washing fresh fruits and vegetables after harvest) with Lee Stivers, Penn State Extension;
Como llegar sanos y sanas a nuestro hogar al final del día (How to arrive safely to our homes at the end of day) with Maria Gorgo-Gourovitch, Penn State Extension.
Contact Information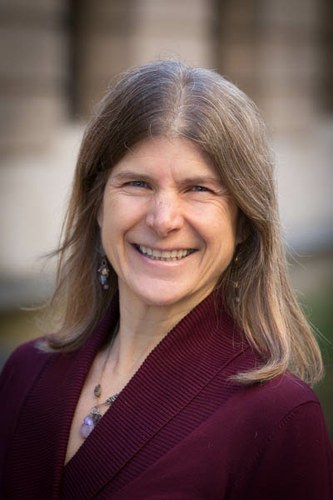 Department Head, Plant Pathology and Environmental Microbiology